Good lord the Giants are really trash.
Former Eagles all star Frank Gore is back on the field.
Maybe I'll watch the Bills game. Hope someone throws a other giant dildo on the field again.
daub.me/p/2978e - Overnight campout with the Scouts at the drive in. Loads of fun!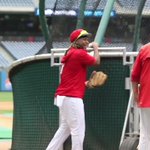 MarcFarzetta Another vicious fight breaks out in Philly Sports!

pic.twitter.com/stXV6ktrQF
Commercial break music was Megadeth?
Throw it deep to Djax again? Why not?
DJAC DEEP AGAIN TD!!!! WELCOME BACK!!
dustball1986 Time for Sanders to get his first TD. I'm calling it now
Run blocking is not good.
Closing my eyes, someone @ me
Maybe if you are going to run, maybe, and I don't know a whole lot, but maybe try Howard a few more times?
Just give them 3, that's fine, that's ok, everything is fine.
Well that half was balls.
What an ass of a play call.
Oof their kicker is a beast.
And a flag, please don't do this
That's a close your eyes and chuck it up to DJax deep. Do that every play.
Woooo holding I'll take it.
Why would you run a deep ass pitch run?!?
Boo Birds are out. Way out.
This is some really fun shit I'll tell ya.
That was not a good play call.
First Eagles game with a new laptop, may need to switch back to the old laptop soon, just thinking.
BAM, please and thank you.
RoobNBCS Keenum is 6-for-6 for 109 yards.

Defense didn't play together all summer and it's showing.
No pressure and wide open. I feel I have said this a few times before...
If you are going to bitch about a kicker giving you a little shove, maybe you should think again about your career choice?
Jesus God no please stop this. #Eagles
@sectv Do you have a customer service email address?