My most spoken phrase? 'Don't tell your mother."
Yes I turned on the TV in an empty room so my cats can watch. Don't judge me.
Hey @AeroGarden, your Android app won't even open when installed on the new Android Pie OS.
Oh look, a thunderstorm and crazy insane rain. That's something new.
That's very dumb and a bad new rule.
Is there wine in there? Seriously fuck that guy.
Can we uh, stop with the running backwards shit on a punt?
Cut that fool immediately.
Lol I've seen enough for tonight thanks.
Tom Brady slobber slobber slobber.
Fuck this. Make it flag football and be done. Ridiculous.
BoopStats A shame the score of Phillies game wasn't 25 or 6 to 4 ...
I stand corrected. 21 runs. From the Mets. THE METS.
Jfc I guess we should all be glad it's only 15.
Phillies water you doing?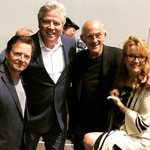 TomWilsonUSA This just happened. Four man Bobsled. Go team. pic.twitter.com/y1RDRsbvnr
Hercule Poirot vs Sherlock Holmes. Quite a conundrum...